Luxe X Pro 40w Pod Vape Kit By Vaporesso
Discover the Vaporesso Luxe X Pro, a versatile vaping solution that caters to both beginners and seasoned vapers alike. This pocket-friendly pod kit packs a punch with its 1500mAh battery and adjustable 5 - 40W power range. Tailored for Mouth To Lung (MTL) and Restricted Direct To Lung (RDTL) vaping styles, this kit offers a personalised vaping experience with refillable 2ml pods. With two pods included, you're all set to embark on your vaping journey. Available in 7 stunning colours.
Key Features:
Powerful 1500mAh Battery: Enjoy long-lasting vaping sessions without frequent recharges.
Adjustable Wattage: Tailor your vaping experience to your preferences with variable wattage control.
Smart Mode: Let the Luxe X Pro intelligently choose the optimal power output for your pod.
MTL & RDTL Vaping: Switch between styles effortlessly for a customised inhale.
2ml Refillable Pods: Easy-to-fill pods ensure a convenient and mess-free experience.
Built-in Mesh Coils: Experience faster heating and enhanced flavour with these innovative coils.
Adjustable Airflow: Fine-tune your inhale with the kit's airflow control.
Fine Tune The Airflow
MTL to RDTL Vaping
The Luxe X Pro allows a very fine adjustment of the airflow by its clever slider, from small MTL puffs to large RDTL Clouds, the Vaporesso Luxe X Pro Pod System covers all the bases.

Enjoy Ultimate Convenience:
Control your wattage with the click of a button.
Choose between button-activated or inhale-activated vaping.
Never worry about setting power mode with the Smart Mode feature.
Explore MTL and RDTL vaping styles effortlessly.
Refill pods without removing them from the device.
Built-in coils mean no more messy replacements; simply swap out the pod.
Compatible with 0.8 Ohm and 1.2 Ohm Luxe XR pods for versatility.
The mesh coils ensure faster e-liquid heating for richer, more satisfying flavour.
Ideal for use with 50/50 e-liquids.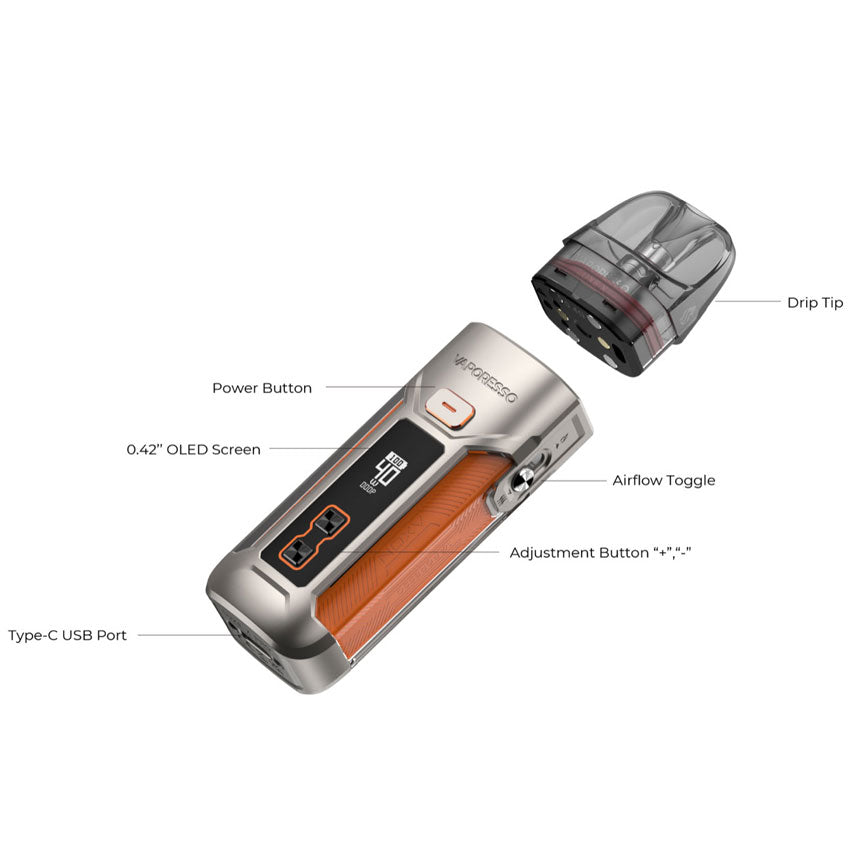 Luxe X Pro Controls
With a clear 0.42" OLED screen a large easy-to-find power button, intuitive adjustment buttons and a clever sliding airflow toggle The Luxe X Pro is familiar and easy to use.

Draw or Button Activation
The Luxe X Pro vape pod device can be activated by draw for those used to disposable vapes or Pod systems or can be button fired for those that like a bit more coltrol.
What's in the Box:
Vaporesso Luxe X Pro Vape Kit
Luxe X 0.4 Ohm Mesh Pod
Luxe X 0.6 Ohm Mesh Pod
USB-C Charging Cable
User Manual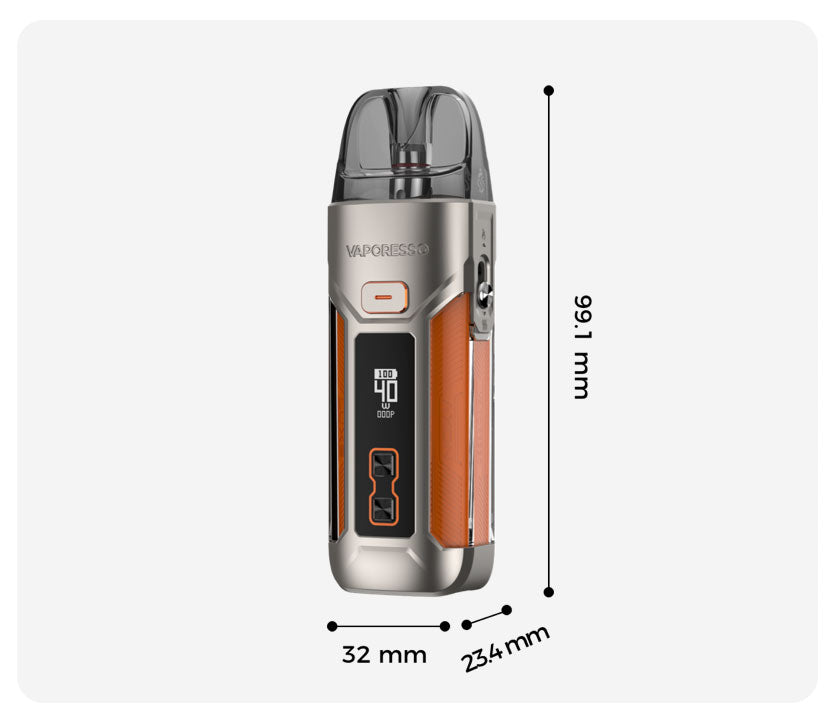 Handily Pocketable
Luxe X Pro's Dimensions
The Lux X Pro is an excellent size for ease of carrying - but big enough not to lose easily!
Height : 99.1mm
Width : 32mm
Depth : 23.4mm
Elevate your vaping experience with the Vaporesso Luxe X Pro Pod Kit. Whether you're a beginner or a vaping enthusiast, this compact yet powerful device offers a range of features and options to cater to your unique preferences. Enjoy the convenience of refillable pods and adjustable settings for a truly personalised vape.